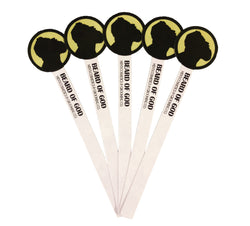 Beard of God
Scent-Stick Samples
The perfect opportunity to sample our scents before making a purchase. Pick any 5 scents* you'd like try out. *Due to a high volume of orders, this product is limited to one order ( 5 Sticks) per customer/household.
With over 20 Scents for Gents™ to choose from, your beard can smell anywhere from warm, delicious chocolate to a dapper, smoky pipe within seconds. A great-smelling beard makes all the difference; we've even had customers get married over how great their beard smells (we're serious)!
Choose ANY 5 Scents* Below: (Alphabetical Order)
Bay Rum • a straight shot. Don't worry you won't get drunk on this scent, but you'll smell great! A great classic Barbershop scent that takes you back to the old days!
Black Coconut • creamy, buttery coconut variation - like you're at the beach!
Coco-Vanille • The main notes in this unisex scent are coconut, white musk, woody notes & Madagascar vanilla. Pure Jealousy.
Dark Orchid • sultry woods and rich fruit - A simple yet very complex scent, Women love this scent on Men.
Fabulous • key ingredients in this composition include bitter almond oil, tonka bean, orris root, leather, cashmerean & clary sage oil. A very clean refreshing scent. Suit worthy & truly Fabulous.
French Vanilla • mellow & smooth with a particularly enticing aroma. Just like a French vanilla coffee or ice cream.
Hemp • this is not going to make you smell like a pothead but it is our most healthiest product. It has a simple light plant based scent (Hemp seed oil's EFA compliment include polyunsaturated fatty acids, omega-3, omega-6, omega-9, linoleic acid & gamma acids (GLA's) not found in ANY other oil. This is excellent for your skin & beard! Helps with Psoriasis, Eczema, Acne, Dry Skin.
Leather & Steel • this ultra-sexy interpretation of leather captures its primal, animalistic scent and smooth, voluptuous qualities. The addition of olibanum, night blooming jasmine, and black suede gives it a distinctive, modern spin that is raw yet refined, sensual yet sophisticated.
Mojito Mint • cool, fresh and invigorating, our Mint Mojito Fragrance oil is a true version of the classic mojito cocktail. This scent fuses notes of freshly muddled mint with tropical undertones of lemon and sugarcane
Musk for Men • a classic, musk with a subtle hint of patchouli, softened with sweet sandalwood and delicate roses. A fresh scent that wraps you in a fragrant embrace. Soft & powdery.
Sandalwood & Oud • sweet, woody oud and exotic warm sandalwood with just a hint of rose, evokes the spirit of the orient.
Tobacco Havana • tobacco & cuban cigars - This composition opens with fresh tobacco leaves & honey, followed by notes of patchouli, vanilla & bitter cocoa. The base is warm & oriental with notes of labdanum, amber & styrax.
Sweet Vanilla Tobacco • reminiscent of a British Gentleman's club highlighted with an opulent blend of pure and sultry notes of aged Tobacco Flower, Tonka Bean Cocoa, Frankincense, Raspberry, Precious Woods, and a subtle undertone of soft suede. (This was named Tonka & Tobacco)
tWiSTed Cinnamon • a rich, buttery coffee cake with fragrant spices. Buttery top notes with nuances of jasmine. Sweet, juicy, floral mid notes with cinnamon. The fragrance comes to a well rounded finish with nutty, powder & vanilla notes at the base. * Only available from Mid October to End of January.
Vanilla Tobacco • to die for, a hint of warm tobacco with a vanilla base. Our most popular scent. This is Total Beard Envy.
Vetiver Stone • a dominant Vetiver accompanied with salty notes and sunny, woody accords. It features shiny citruses, spices, precious wood, wet river rock and vetiver.
Warm Tobacco Pipe • a smoky tobacco leaf having notes of herbaceous tobacco leaf followed by a touch of sweet honey and finishing with a smoky, leathery cedar wood, fresh cherry wood, and vanilla bean. Masculine, refreshing, and soothing.
Woodsy Oud • exotic & distinctive. - It is a resin from the heart of the Agarwood tree, Aquilaria malaccensis, native to southern & southeastern Asia. ~ Notes: Oud wood, rose wood, cardamom, sandalwood, vetiver, tonka bean, amber.