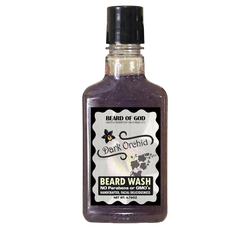 Dark Orchid Titanium Beard Wash
Dark Orchid, an irresistible blend of black truffle, ylang ylang, bergamot, and bitter orange that will have everyone begging for more. The sultry woods and rich fruit notes create a tantalizing aroma that is sure to ignite your senses and turn heads wherever you go.
Our beard wash cleans, moisturizes, nourishes, and repairs your skin & beard with antioxidants, and promotes healthy and stronger hair follicles. It works into a luxurious lather that rinses off easy while stripping all the dirt & grime away (don't worry, you won't have a shimmering beard, just a soft, clean, and great smelling one!).
Benefits of our Key Ingredients:
• Jojoba Oil - Moisturizes roots & hair, anti-dandruff, & mimics natural oils.
• Argan Oil - Increases beard elasticity and has anti-aging properties that also restore shine to dull, lifeless hair.
• Rosemary Extract - Promotes nerve growth, and heals the nerves on the scalp to encourage a healthy beard
• Quinoa Extract - Known to mimic hair fibers and contains 9 amino acids to strengthen beard hair follicles from the root down & form a protective seal.
• Nettle Extract - Combats hair loss and also helps in hair regrowth.
• Agave Extract - Kills the frizz & adds lustre and shine.
Formulated for sensitive skin. Tested on real beards.
How to use: Wet beard, lather wash into hands then apply to the beard, starting at the roots. Rinse and style as desired.
Our Titanium Beard Wash formula consists of: Aqua, Sodium Laureth Sulfate, Cocamidopropyl Betaine, Xanthan Gum, Phenoxyethanol, Simmondsia chinensis (Jojoba) Oil, Argania spinosa (Argan) Oil, Oryza Sativa (Rice Bran) Oil, Activated Charcoal (Hardwood), Rosmarinus Ocinalis (Rosemary) Extract, Urtica Dioica (Nettle) Extract, Caprylic/CapricTriglyceride, Agave Tequilana Leaf Extract, Quinoa Extract, Titanium Dioxide, Mica, Iron Oxide, Essential and/or Fragrance Oils, Vitamin E. 
Beard Oils
Beard oil is the secret weapon for those men who have a beard or those trying to grow one. It plays an important role in the appearance of your face and helps you avoid any itchiness or dryness in this sensitive area. Applying your beard oil properly is not always that easy. Let us see some easy steps that will help you choose and apply your oil in the best way possible.
The best time for you to apply the oil is after you take a hot shower. That is when your hair follicles are the softest and cleanest. Also, hot water opens your pores, therefore it gives the oil the chance to go deep into your skin and hydrate both the exterior and interior surface of your beard.
One thing you should take into account before applying your first beard oil, is the possibility of experiencing a sensitive reaction to one of its ingredients. How can you prevent such a thing in advance? Well, the solution is pretty simple actually. You just have to apply a small amount of the oil behind your ear for a couple of days, and watch out for any unpleasant symptoms, like redness or itching. In order to apply the oil, pick up the dropper, take 2-3 drops, put it in the palm of your hand, rub both your hands together and then gently rub the oil into your skin under your beard, this is going directly into your skin follicles and will help prevent that dreaded "Beard dandruff", it will help your pores and keep everything healthy. Now just apply the rest to your beard hair and use a Beard of God™ Comb or Boar brush and comb downwards to help distribute the oil evenly.
How Often to Use It?
If you want to achieve the best results, it is advisable that you use your beard oil daily. By doing that, you will keep your beard nice, soft and smelling good at all times. Most people use their oil twice a day, that is after their morning shower and before they get to bed at night. However, there is no rule that dictates the amount of daily repetitions you need to follow, so it is really up to you to decide how often do you feel like you could use some moisturizing beard balm.
Beard Balms
Our Beard Balms contain all the oils, butters and added beeswax to make it a much harder consistency, to use this, you take the back of your nail, scrape off a dime sized amount (depending on your length) rub it between both palms and it will solidify because of the heat, then apply only to your beard hair, not the skin, then comb down or style as desired (this will give you a great hold compared to any of the others (Oil or Butters)
This can be used right after you apply an oil because this is more for form and stays on your beard hair and not into your skin. (Yellowish in color with a honeycomb center
Beard Butters
In-between the oil and balm, it contains oils and added butters to make it soft and creamy, this is used for both, on your skin and also for your beard but it is a light hold for your hair. - If you have used an oil, then you don't have to add this also as it will make it too shiny (replaces oil throughout the day), this can be applied during the day if you feel your beard is drying out. ♥ Our Butters are Better
Benefits & Country of Origin for Each Ingredient
Activated Charcoal
(Hardwood)
- 
helps cleanse all these impurities, removes the sebum and deep cleanses the pores to let your hair breathe. It unclogs the pores in your scalp thus detoxifying the follicles. This helps the hair grow better
•
Product of USA
Agave Extract  -
Helps to moisturize the skin. Rich in vitamins B1, B2, C, D, K, and provitamin A & has excellent anti-inflammatory properties 
•
 Product of Mexico

Amylum
(Starch)
-
 a complex carbohydrate found chiefly in seeds, fruits, tubers, roots and stem pith of plants, notably in corn, potatoes, wheat, and rice; an important foodstuff and used otherwise especially in adhesives and as fillers and stiffeners 
• 
Product of USA
Argan Oil*
(Also known as Moroccan Oil)
-
Made from the fruit of the Argan tree which grows only in Morocco. Because these trees take 30-50 years before they product fruit, pure Argan oil is fairly rare & very expensive. Many benefits with this oil include controlling frizzy beards, preventing split ends, getting hair shiny & controllable
 •
Product of Morocco
Avocado Oil* -

 
Excellent for moisturizing skin, increasing collagen production which decreases the effects of ageing & treats skin conditions including eczema & psoriasis •
Product of Mexico


Beeswax
(Natural color, no dyes)
-

 
Gives your beard a nice waxy emollient finish. Rich in Vitamin A •
Product of Ontario, Canada & Tavares, Florida
Cocamidopropyl Betaine
-
In soaps and shampoos, cocamidopropyl betaine is used to create rich, thick lather. In conditioners, it works to soften hair and reduce static. It's included as a thickening agent in countless personal care products and cleaners 
•
Product of USA
Cocoa Butter*
-
 is a great source of antioxidants, which help combat free radicals and help save your skin from the inevitable signs of ageing and environmental stresses, it is also the best salvation for people who have sensitive skin •
Product of USA
Coconut Oil* -
Hydrating; reduces inflammation and locks in moisture. Coconut Oil has many benefits with the main one being that it's a very light moisturizer and it is easily absorbed by your skin. The oil can be used to help with the healing of eczema and acne, as it helps to balance out the dry and oily patches on the skin •
Product of Philippines


Ethylhexylglycerin & Phenoxyethanol - (Gentle, Eco-certified Paraben Free Preservative - Green) The preservative has a broad, balanced spectrum of effect against bacteria, yeasts and mold fungi.
Grapeseed Oil* -
Helps reduce pore inflammation (due to dry skin or non-conditioned beard hairs). It also has many benefits with the main one being that it's a very light moisturiser and it is easily absorbed by your skin. The oil can be used to help with the healing of eczema and acne, as it helps to balance out the dry and oily patches on the skin •
Product of Chile
Hempseed Oil* -
 Hempseed oil is a good source of omega-3 and omega-6 fatty acids, which are called essential fats because they are needed to maintain healthy cells, nerves and brain function. 
Not only is hemp oil rich in vitamins A and E, it also contains trace amounts of important minerals like potassium, magnesium, iron, zinc, calcium and phosphorus. Our Hemp Oil is 100% Certified Kosher 
• 
Product of Canada
Honey* -
A natural humectant, which means it attracts and holds onto water molecules
  • 
Product of Canada


Hydrogenated Vegetable Oil - Oils (such as vegetable, olive, sunflower) are liquids at room temperature. In the food industry, hydrogen is added to oils (in a process called hydrogenation) to make them more solid, or 'spreadable' • Product of USA



Jojoba Oil* -
This oil has been used for years in hair care products. It closely mimics human oil, and is easily absorbed. Moisturizer, Antibacterial, Antioxidant, Hypoallergenic, helps control sebum production, encourages skin calls to bind together for cuts & scratches. Helps soothe eczema, psoriasis, & other drying skin conditions & helps sooth sunburns •
Product of Argentina


Lauryl Glucoside - a surfactant, meaning it breaks surface tension in liquids, allowing things to become clean. It can be found in hundreds of personal care products, including shampoo, facial cleansers, body wash, sunscreen, bubble bath, and a variety of other products.
Loofah
-
Luffa is a genus of tropical and subtropical vines in the cucumber family. In everyday non-technical usage, the luffa, also spelled loofah, usually refers to the fruits of the species Luffa aegyptiaca and Luffa acutangula • 
Organically & Naturally grown in Winter Park, Florida. 
Mica -
The biggest benefit of mica is its ability to create a natural shimmery finish, since it can be milled to a fine powder. Because it is naturally produced it is a particularly well-loved ingredient among organic and natural beauty brands, and is safe to use on almost all skin types with little to no side effects 
• 
Product of USA


Nettle Extract (Urtica dioica) - Helps In Hair Re-Growth Not only does stinging nettle help in combating hair loss, but it also helps in hair re-growth. Nettle leaves are rich in silica and sulfur. This helps in making hair shinier and healthier • Product of North Africa
Phenoxyethanol
-
is a preservative used in many cosmetics and personal care products. You may have a cabinet full of products containing this ingredient in your home, whether you know it or not. Chemically, phenoxyethanol is known as a glycol ether, or in other words, a solvent 
•
Product of USAQuinoa Extract -
contains high levels of cysteine, cystine, lysine, methionine, tryptophane and tyrosine. ... We know—it's a mouthful. But these dramatically boost the hair's hydration, forming a protective barrier to block out environmental stressors (like heat and dryness) while locking in moisture 
• Product of Peru
Rice Bran Oil
-
Extracted from the bran or outer coat of the brown rice grain removed during the milling process. It is rich in vitamins, minerals, proteins and essential oils
• 
Product of India
Rosemary Extract
(Rosmarinus officinalis) - Considered sacred by ancient Romans, Greeks, and Egyptians, which makes it one of the most powerful herbs and essential oils on earth 
•
Product of China
Shea Butter* - 
Excellent at moisturizing skin but even better at taming unruly or course facial hair. Here are some major benefits:
Moisturizes dry skin, treats acne and blemishes, reduces skin inflammation, anti-aging and anti-free radical agent, provides relief to itchy and peeling skin, restores the elasticity of the skin, reduces razor irritation and bumps, reduces stretch marks •
Product of Ghana


Sweet Almond Oil* -
Reduces skin inflammation, which can help prevent ingrown beard hairs.  Thanks to the Vitamin E, sweet almond oil keeps your skin cells healthy, protects your skin from UV radiation damage, and helps your skin look smooth, soft, and free of fine lines. The fatty acids help your skin retain moisture and can heal chapped and irritated skin. Plus, the vitamin A can help reduce acne
 •

 

Product of Morocco

Sodium Laureth Sulfate - The majority of our liquid shampoos are SLS-free, and contain the gentler surfactants ammonium laureth sulfate (ALS) and sodium alkyl sulfate (SAS), in its place. However we do have some that have SLS but our percentage is MUCH lower then your standard industry Shampoo. The risk of irritation is very low because only the foam is applied to the hair and scalp.
Titanium Dioxide -
Inert earth mineral used as a thickening, whitening, lubricating, and sunscreen ingredient in cosmetics. It protects skin from UVA and UVB radiation and is considered no risk of skin sensitivity. Because its gentle, titanium dioxide is a great sunscreen active for sensitive, redness-prone skin
• 

Product of USA
Vegetable Glycerin -
a Kosher product derived from palm, and it is GMO-free and allergen-free 
•
Product of Malaysia
Vitamin E -
Has antioxidant properties that help repair damaged hair follicles & prevent tissue corrosion, which in turn encourages healthy hair growth. Helps fade scars, fights wrinkles & softens rough skin •
Product of USA


Xanthan Gum -
Useful in shampoos, hair conditioners and styling products. It is a fantastic viscosity modifier, producing thick and creamy products that are very thermally stable 
•
Product of USA


* Indicates Organic Ingredient(s)