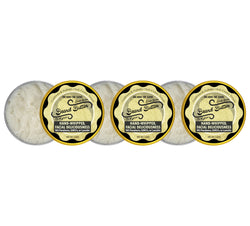 Beard of God
Thick-Whipped Beard Butter Sample Pack
Please make sure to add your 3 scent choices in the box above to ensure your order is crafted on-time!
Contains (3) 1.2oz Thick-Whipped Beard Butters.
For a list of our available scents, click here.
Our Butters Are Better
We take great care in hand-whipping our butters to perfection. This meticulous process results in an exquisitely smooth and velvety texture, reminiscent of the finest of butters. Our formula deeply enriches both the beard and the skin, offering impeccable nourishment while delivering a superior hold suitable for all beard types. Experience the end of itchy beards, dandruff, and dry skin. The non-greasy finish is a given & an added bonus.

Behind this luxurious blend lies a commitment to simplicity, harnessing the power of just two fundamental ingredients, complemented by a wealth of botanical extracts. As a testament to our dedication, rest assured that its quality remains uncompromised, with a shelf life extending well beyond 2 years.

A testimonial graciously provided by one of our cherished clients ~
"This is the most underrated beard company out there ! You don't believe me? Try one of their butters! They are incredible . I have finally found the company I been looking for for years! I usually have to buy wax or a balm to keep my flyway's down . I don't know how or what they do to this butter but it works so well for me . I love it ! Remember your beard is probably different from mine so you will just have to try it for yourself. Beard of God is the best ! As long as I have a beard I will be a customer for life ! Thank you for making awesome products. I forgot to tell you my favorite scents are Dark Orchid, Tobacco Havana, Vetiver Stone, Twisted Cinnamon, Bay Rum , Vanilla Tobacco and Florida Orange! Basically everything they make almost 😂" - Blanton B


Our famous beard butter formula consists of all organic & natural ingredients: Prunus Dulcis (Sweet Almond) Oil, Persea Gratissima (Avocado) Oil, Cocos Nucifera (Coconut) Oil, Glycine Max (Non-GMO Soybean), Oil Theobroma Cacao (Cocoa) Butter, Zea Mays (Corn) Starch, Avena Sativa (Oat) Extract, Ceratonia Siliqua (Carob) Seed Extract, Urtica Dioica (Nettle) Extract, Panax Ginseng Root Extract, Essential and/or Fragrance Oil. 
No Added Chemicals
No Parabens, GMOs or Lanolin
Gluten-Free
Made For Sensitive Skin
Vegan
Just the Good Stuff 
✋ This product is crafted and made-to-order ensuring maximum freshness & a longer lasting shelf-life, when placed directly through beardofgod.com